Guest MOC interviews series
Boba Fett on motorcycle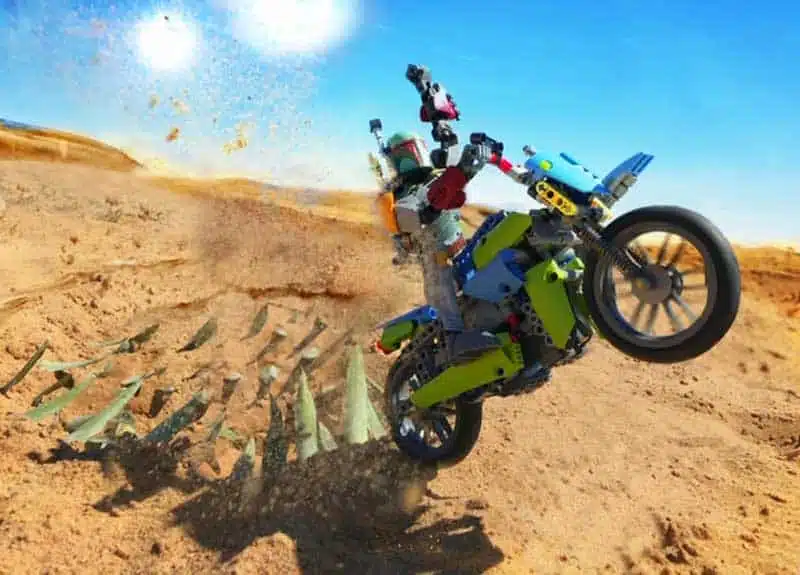 Guest MOC interviews series
Boba Fett on the motorcycle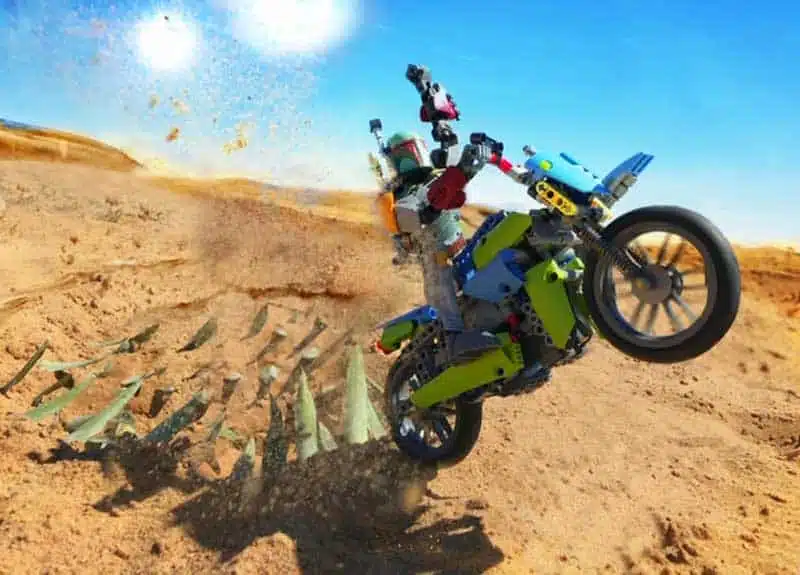 Brian Gunning data: 
Home: Wausau, Wisconsin, USA
Age: 49
First LEGOs: Space, the original grey. Technic blue buggy.
Favorite Set: BOOST Droids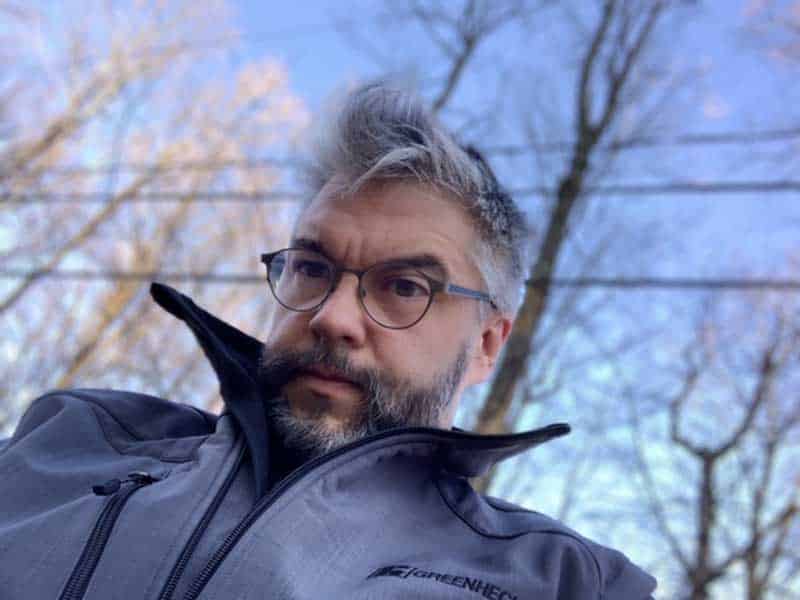 Well, we can't so often see LEGO® bikes. How did you decide to play with bike, instead with RC?
I love remote controlled vehicles of all kinds. Drones, cars, boats, planes. But my first RC was a Honda 3-wheeler with pneumatic tires. I've always loved how motorcycle steering works. A few years back I drew a robot dog inspired by AIBO, but mine was more American. One part hot rod, one part motorcycle, all dog. I called him Cog the Dog. https://www.youtube.com/watch?v=Gbt0KDOL7qY
I have built a few versions of Cog, and am working on a Technic one now, so learning how to build an RC motorcycle out of LEGO was crucial.
This motorcycle model is based on GreenGecko's fantastic "Fast Lego Technic RC Motorcycle" – which you can see and build from here:
https://www.mochub.com/moc/fast-lego-rc-motorcycle-it-really-works-and-stands-30kmh
Yes, it really does work and lean, but the Green Gecko version uses S motors and is a little slow. You have to help it get going.
In looking at the GG lean mechanism I wondered if it could be a pivoting saddle for a figure. I looked up LEGO figures and found one close to the colors I was already using on the bike. Grey, green and blue. That could only be one guy….
Why Boba? Does that symbolize something or is just random name?
My son and I both have enjoyed the Star Wars movies, and we love Boba Fett, the famous bounty hunter from Empire Strikes Back, and other Star Wars shows. The LEGO figure of Boba was the perfect size, too.
https://www.lego.com/en-us/product/boba-fett-75533
Boba Fett will also be featured in the next season of The Mandalorian on Disney + if you are not familiar. https://www.starwars.com/series/the-mandalorian
Season 2 featuring Boba will be out this Fall, 2020.
How many times Boba fell off the bike? How many times did you have to fix him? ?
Boba is attached via the saddle, so he has only fallen off once, after a particularly bad end over end crash at full speed. That said, because of loosening his knee joints his lower legs do sometimes pop off.
What is the advantage of BOOM-cam in comparison with other cams?
I just happened to find this great photo from the set of The Mandalorian. THAT is a boom cam. It is steady (in theory) and counter-balanced. For Boba's Bike, the balancing mechanism kept the camera level with the ground, so no matter how far over Boba leaned, the camera stayed level to the horizon (in theory) and didn't drag against the ground. I did this using a technic swivel connector and having the weight of the cameras lower than the pivot point. Very similar to what you see here.
Did you try other batteries or BuWizz was your first choice? And why did you choose BuWizz?
I tried LEGO's power packs and IR first, but wanted proportional steering. I was too late coming back to LEGO to have bought a Buggy set, so there were no LEGO options. Buwizz is smaller and more powerful, which is why it was essential for the motorcycle build.
I upgraded Green Gecko's build to L motors, and the BuWizz unit handled it great.
Did you measure speed? Do you intend to break a record?
I can put an iPhone SE on it in place of Boba and try a speed run. It's quick, but I doubt it gets over 20 mph.
Are Cog the dog and Boba hanging around?
Yes, I have a photo I can send of two different versions of Cog with Boba.
That said, I am working on a disassembly video for Boba's Bike much like this one:
https://photos.google.com/share/AF1QipOhmGHHV_lnUi5zJV1f6xwGeMNUSxUwHWuZqaBbJIllbgAZULAYOISyM0UHATX67A?key=UkVGYWxiWDhpRl9YREowMEFfX1h0UGhaMHJiUjd3
So people will be able to build their own.
What next can we expect to get out from GunningLabs?
We are motorizing the LEGO Technic Buggy 8048 next, just for a fast and fun conversion. Then, it's back to building a small-sized LEGO Cog using what we've learned from Boba to make a highly articulated drivable hot-rod dog from LEGO and BuWizz!
Favourite MOCs powered by BuWizz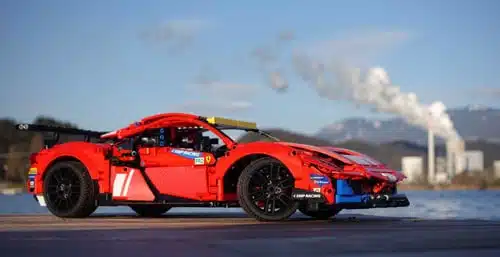 42125 Ferrari 488 GTE MOD
by BuWizz
For this model, the plan was not to aim for high speed but to modify it in a way to be able to power slide and drift.
This model also served as a test bench of the 3D printed BuWizz motor casings and BuWizz 3.0 production Pro hardware.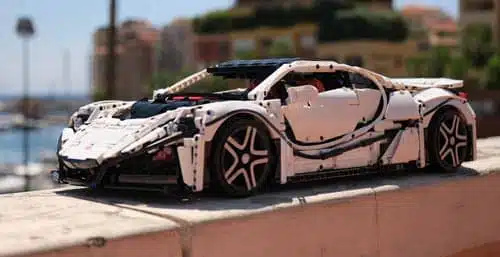 Spano GTA
by BuWizz
This model is the fastest 1:8 scale model, and of LEGO bricks, on the planet. It can reach a whopping 36,5 km/h.
GTA Spano MOC uses 10 BuWizz motors for propulsion and 5 BuWizz 3.0 Pro controllers.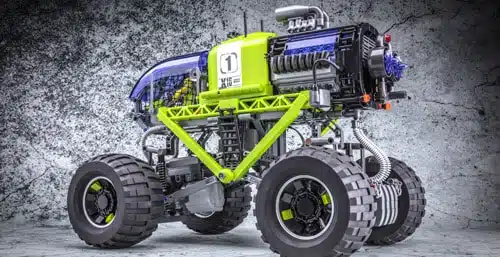 Futuristic Monster truck
by Alexander Rossier
This creation is out of this world. it looks like it is prepared for a MARS mission.
Alexander is a real-life Auto designer and fortunately for us, he loves to test his ideas with LEGO®.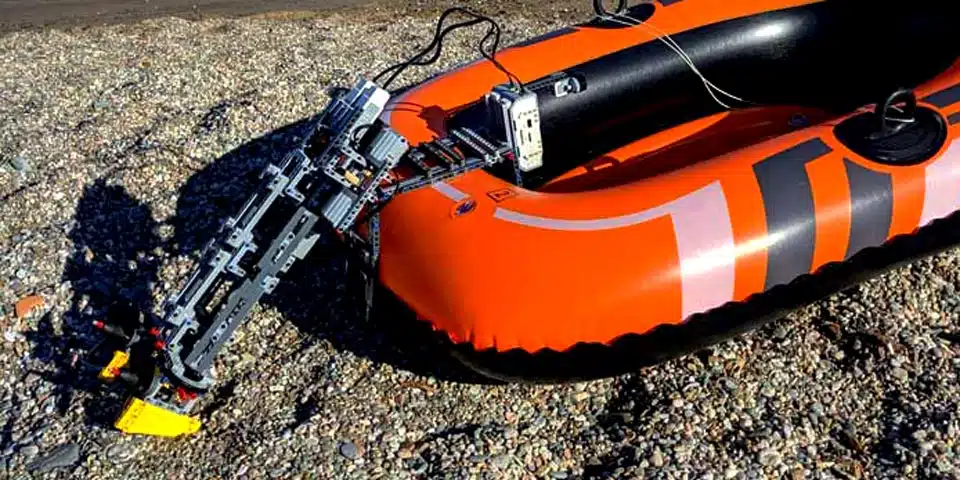 Boat motor from LEGO® bricks
by Andreas Stefadouros
If you are from Greece, you probably own a boat. LEGO® Technic builder Andreas had an amazing idea for an adventure.
He inflated his boat, through away his paddles, and made a Motor from bricks.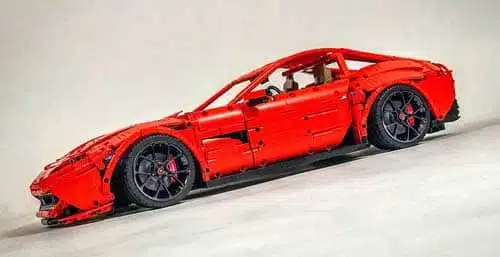 Ferrari F12
by Lachlan Cameron
Lachlan is one of the most recognised builders of Supercars. His collection of building instructions are phenomenal. But his pride and joy is this MOC: Ferrari F12. 
Check out what he said about the build...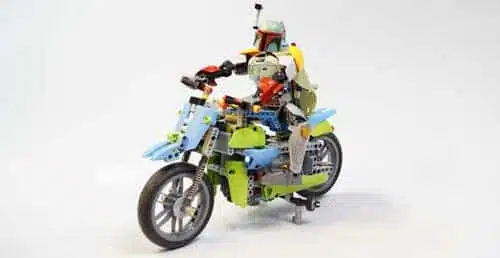 Boba Fett on motorcycle
by Brian Gunning
BuWizz #stayathome competition had some cool models, but one was very interesting. For all those who love Star Wars, the name is familiar. His bike isn't. This is a story about Boba Fett.