Guest MOC interviews series
LEGO® Traxxas XMAXX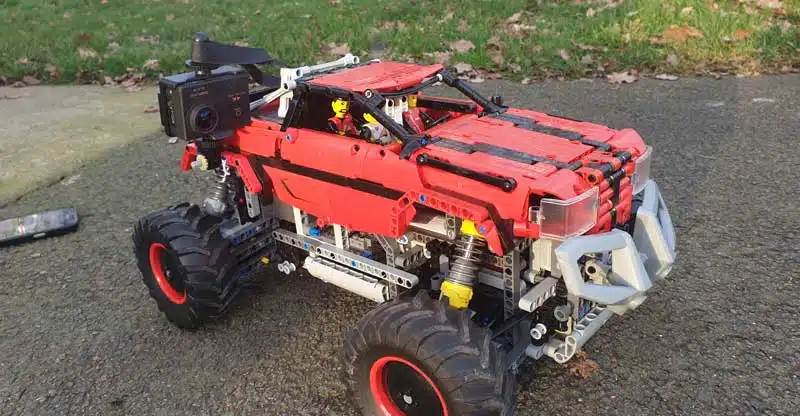 Meet Marxpek Lego Technic Design – The lord of the crashes?
Great MOC's, the fastest RC's, spectacular crashes… If you like all of this, then you are in right place, because Marxpek is the master in those areas. ?

Why Marxpek? Does that symbolize something or it is just random nick?
When I was in school, I did a presentation about Marxism, and my first name being Mark, the name Marx stuck better with most people, since then people call me Marx. My full name is Mark Spek, if you say that fast it becomes Marxpek.
How did you get idea to create those LEGO® Technic X-MAXX, with 8 RC Motors and 4 BuWizz?
That started with my Ripsaw EV1 MOC, also with 8 buggy motors, after seeing that a viewer suggested building the traxxas X-MAXX, one of the toughest/biggest rc cars out there. I follow a few RC channels as well so I knew the car and liked the idea!
And how long did it take?
Who is counting? I only build physically, always by trial and error and due to my busy schedule mostly in short burst, if I had to guess 15-20 hours total over a span of 3 weeks?
How long did it take before you had first crash with it? ? And how many repairs you had before you ended with making this video? ?
The first crash? Hmm, I guess that was before it even had a bodywork, first test where of course indoors, and let me tell you this: this MOC is too big and fast for indoor use.. But during the video I had several roadside repairs and 3 big repairs at home after an "unscheduled rapid dis-assembly".
Why did you choose BuWizz for this MOC?
Ever tried powering 8 rc motors? There is you answer..
Can we get instructions?
This thing has more power than LEGO® can handle, it is bad for your bricks, this will not get instructions, I destroyed my bricks so you don't have too..
How many different bricks you have to use for this unique MOC?
Depends on how many you break during driving! Again, who is counting..
What do you have to do to get comment from Kevin Talbot under your video? ?
Ha! that surprised me as well, but I follow his RC channel for quite a while now and I know he also has an interest in LEGO®, so I just commented on one of his videos that I built the X-MAXX. I was pleased to find out he took the time to watch the video!
When will you learn how to drive? ? ? ?
Outch.. thats mean.. When I can control the buwizz with a controller maybe?… I can be mean too! 😀 But all jokes aside, I like building more than I like to drive, my crashes are just an excuse to get building!
You had blasts with LEGO®®, you had crashes with LEGO®®, you had flight with LEGO®®, you break speed record with LEGO®® (and BuWizz)… What is next? ?
That is a good question! The speed record can and should be improved, maybe set a speed record on water? Sounds fun.. Or maybe rc flight? Sounds like more crashes are ahead! But to be honest: I have no idea where my parts will lead me next!
Favourite MOCs powered by BuWizz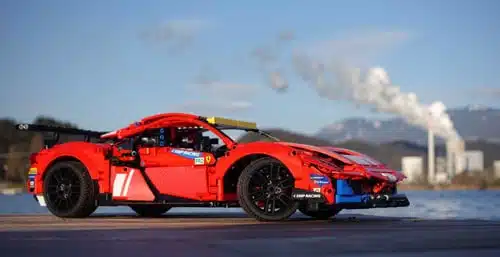 42125 Ferrari 488 GTE MOD
by BuWizz
For this model, the plan was not to aim for high speed but to modify it in a way to be able to power slide and drift.
This model also served as a test bench of the 3D printed BuWizz motor casings and BuWizz 3.0 production Pro hardware.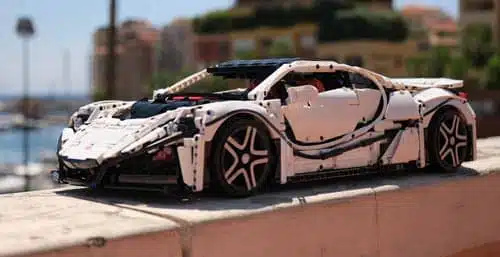 Spano GTA
by BuWizz
This model is the fastest 1:8 scale model, and of LEGO bricks, on the planet. It can reach a whopping 36,5 km/h.
GTA Spano MOC uses 10 BuWizz motors for propulsion and 5 BuWizz 3.0 Pro controllers.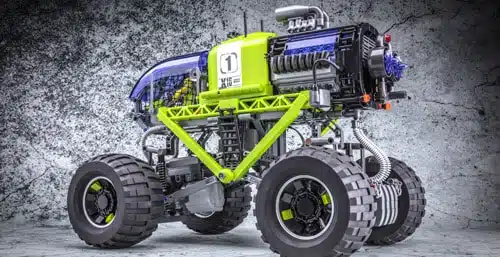 Futuristic Monster truck
by Alexander Rossier
This creation is out of this world. it looks like it is prepared for a MARS mission.
Alexander is a real-life Auto designer and fortunately for us, he loves to test his ideas with LEGO®.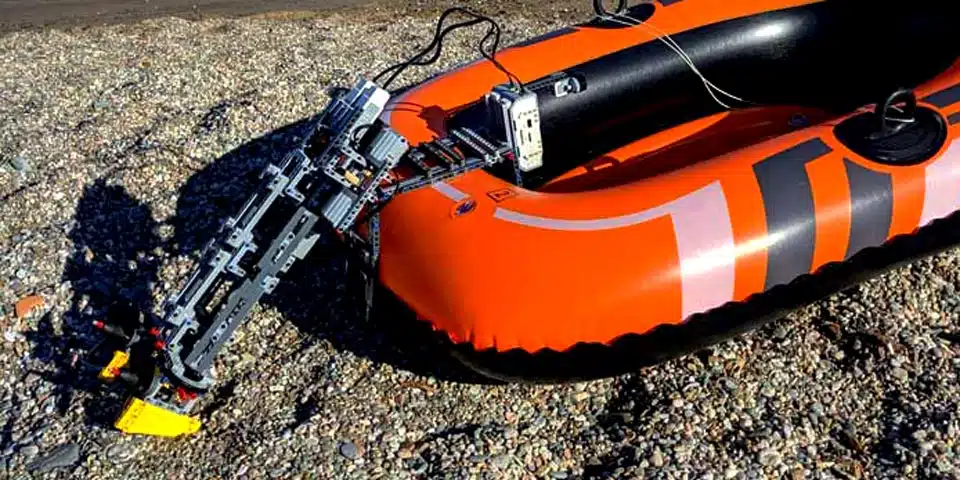 Boat motor from LEGO® bricks
by Andreas Stefadouros
If you are from Greece, you probably own a boat. LEGO® Technic builder Andreas had an amazing idea for an adventure.
He inflated his boat, through away his paddles, and made a Motor from bricks.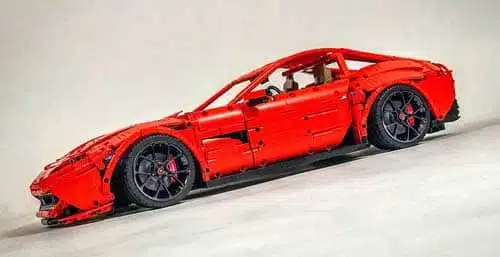 Ferrari F12
by Lachlan Cameron
Lachlan is one of the most recognised builders of Supercars. His collection of building instructions are phenomenal. But his pride and joy is this MOC: Ferrari F12. 
Check out what he said about the build...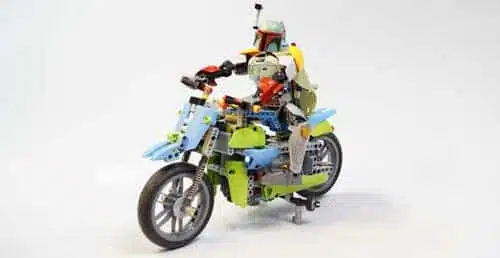 Boba Fett on motorcycle
by Brian Gunning
BuWizz #stayathome competition had some cool models, but one was very interesting. For all those who love Star Wars, the name is familiar. His bike isn't. This is a story about Boba Fett.