BuWizz Picnic and Competitions
Free accommodation, food, drinks and animation.
BuWizz Team is happy to invite to our annual Picnic and Competition in a Idrijska Bela, Slovenia
This year we will offer free acommodation to all contestant.
Food, drinks and animations are FREE.
Good company and FUN is guaranteed. 
Come to our event and have FUN with other AFOL's.
BuWizz LEGO Truck Trial 8.6.2018
Truck trial in nature with 2 events:
Truck trial
Small car competitio
Picnic in nature
Food, drinks and crystal clear river to cool down. Nearby is a beautiful natural river for swimming. Everything for a perfect day with friend and family.
Animation and games
We will organize some animation and games for children: archery, blowgun, Survival in nature crash course, and outside games for children (volleyball, swimming…)
Great place for vacation
Bled is voted most beautiful place in Europe and World by Tripadvisor. Slovenia is 2nd best country to visit in the world by Tripadvisor. It offers so much in small space. In one our you can be skiingl and hour later swiimming on a beautifull coast.
Slovenia has more that 50% of its land covered by forest so the nature lovers will enjoy. It has also a lot of SPAs and thermal springs witch offers much needed relaxation and health benefits. 
1.) GENERAL RULES:
ANYONE can join (minors under 18 must be accompanied by an adult). Races will have 3-5 stages, depending on the race. Between each stage, MINOR modifications and battery replacements can be made.
There are 2 truck classes: REGULAR and UNLIMITED.
2.TRUCK SPECIFICATIONS AND RULES:
Truck has to me made 100% out of LEGO pieces. EXCEPTIONS:

Cloth for canvas-back trucks
Chromed parts
Stickers relating to truck-trial, Rubber-bands, and string for winches.
One or more BuWizz brick(s)

Truck CAN NOT have any MODIFIED LEGO bricks.
Truck MUST have a onboard battery box.
Truck MUST be 100% REMOTE controlled.
NO treaded/tank-like vehicles allowed. EXCEPTIONS: WINTER SNOW TRIAL RACES.
MUST look like a real truck / vehicle ( MUST BE IN-SCALE )
Truck must have seats and a steering wheel in the interior.
If the truck is made from instructions by a famous builder, YOU must modify it in AT LEAST 3 major ways: Bodywork, Suspention , Gearing, Transmission, Wheel size.
Truck MUST be able to steer
ONLY 1 vehicle allowed to enter in each truck class PER BUILDER
HIGH-VOLTAGE BATTERIES ARE FORBIDDEN! MUST use Duracell batteries in their battery box, either AAA or AA. Rechargeable battery boxes allowed. BuWizz allowed.
REGULAR class rules:

68.8X36H tires and smaller
has to fit within a 26 by 38 bricks box
drive motors: maximum of 4 drive motors allowed (any combination of M, L or XL Power Functions motors only)
steering motors: more than one motor allowed; PF Servo, L, M or XL motors can be used

UNLIMITED class rules

any tire size
UNLIMITED vehicle size
drive motors: unlimited number, any LEGO motors can be used
More than one BuWizz can be used

 VEHICLE INSPECTION: participants in the race will inspect each other's trucks for rule compliance.
3.) RACE RULES:
TIME PENALTIES:
1.) NUDGE with hand: 30 SECONDS
2.) H.O.G. Hand Of God MINOR relocation: 45 SECONDS
3.) Boundary flag hit: 15 SECONDS
4.) Boundary flag run over in order to pass obstacle: 50 SECONDS
5.) Winch EXTRACTION: HOWEVER LONG IT TAKES TO GET THE
TRUCK BACK ON SOLID GROUND.
6.) MAJOR relocation by H.O.G. Hand Of God to go over an obstacle: 80 SECONDS
7.) Truck ROLLOVER: 20 SECONDS+Time needed to relocate the vehicle.
8.) 6×6 and 8×8 and 10×10 VEHICLES get a -15 seconds per pair of wheels.
9.) Vehicles with a winch get a BONUS -25 seconds.
THE WINNER IS THE PERSON WITH THE QUICKEST TIME TO THE FINISH LINE!
There are 3 RANDOMLY CHOSEN people for penalty-additions, and judges for penalties, and timer.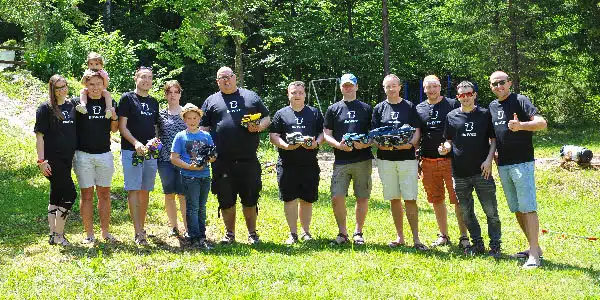 BuWizz Truck Trial & Picnic