BuWizz Hypercar series
GTA Spano
INSTRUCTIONS
Available on preorder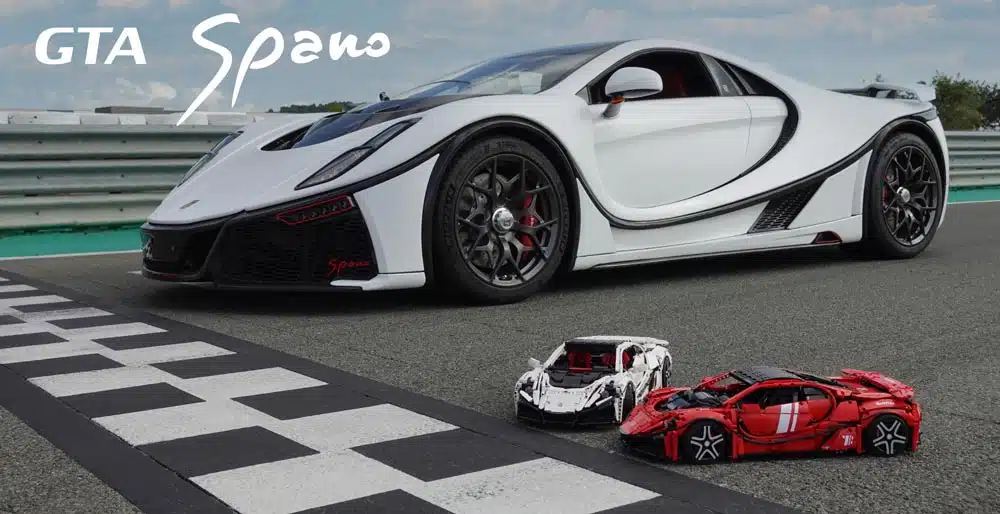 BuWizz hypercar series
GTA Spano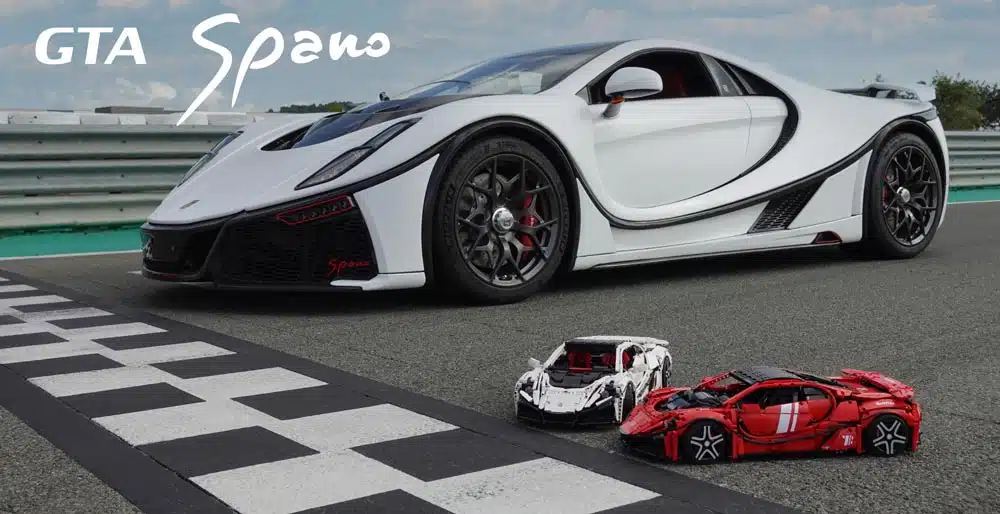 INSTRUCTIONS
Available on preorder
Technical details
Design and development time: 6 months
Building, testing, and calibration of one model: 10 days
Max speed: 36.5 km/h
Number of pieces: almost 3,880 bricks
Weight: 4.3 kg
Number of BuWizz 3.0 Pro: 5
Number of motors:

10 BuWizz motors for propulsion, and
5 motors for other functions
How we set the world record – The BuWizz GTA Spano story
"How much did we get" asked Tihomir, the marketing manager of our team.
"36.5 km/h".
"I think that we have the fastest 1:8 car made of LEGO® bricks at the moment" – answered Jernej, the BuWizz GTA Spano model designer and creator, grinning while peering at the measuring monitor.
This was the answer everyone in BuWizz team wanted to hear.
This meant that six months of model design and development, hundreds of hours of assembly and testing, numerous back and forth communication with Spania GTA, the creator of the fastest Spanish hypercar, finally paid off.
We felt great relief, pride, and satisfaction as a reward for our work.
We invested a lot of bricks, time, enthusiasm, and creativity in this project. Without any guarantee that all this will pay off. But it did. Big time. Even better than we imagined.
How it all started? 
Let's go back a few months. Not everything looked so bright then.
Covid-19 caused huge delays in production and delivery of our new products, BuWizz 3.0 and BuWizz motor. Despite this, we came up with the idea, without too many expectations, to cooperate with a hypercar manufacturer. We wanted to promote our new products by creating a 1:8 scale model made of LEGO® bricks, a faithful representation of the real hypercar.
We chose the Spania GTA Spano, made by a relatively small company. With only 12 cars produced, a price tag of 1.8 Million Euro, over 925 horsepower, a top speed of 400 km/h and a 0-100 km/h acceleration time of 2.7 seconds, it is currently one of the most prestigious and exclusive road-legal cars in the world. And as such, it found its place in the "Need for Speed" movie, as well as the HBO series "Ballers", with Dwayne "The Rock" Johnson in the lead role.
We sent an email with an offer for cooperation to Mr. Ochoa, CEO and founder of Spania GTA, and we were pleasantly surprised by his enthusiastic positive reply. The real work then started and we immediately threw ourselves into the realization of this enormous project.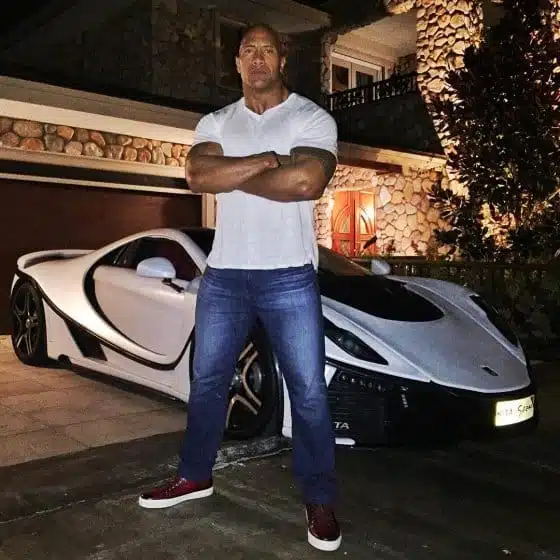 We made the 13th and 14th GTA Spano
So far, only 12 GTA Spano models have been produced, currently in collections of satisfied customers all over the world. We made two more, a white and a red one, out of LEGO® bricks, and we motorized them with 10 BuWizz motors for propulsion and 5 more motors for steering, doors, V10 engine and rear airbrake. Each one of them is powered by 5 BuWizz 3.0 Pro and controlled with BuWizz App.
The design process started when Jernej received 3D CAD files from Spania GTA and he worked very hard to faithfully represent all the features, lines and design details of the real car.
He successfully overcame many challenges, but the biggest one was finding a way for 10 powerful BuWizz motors to drive the rear wheels without breaking the rear gears and CV joints.
Another challenge was making the suspension strong enough to support the car's weight, especially in the rear.
And of course, the custom 3D printed wheels required a lot of trial and error to be accurate, strong and light. They also have to click into the hub bearings tight, yet be removable so they can be replaced, requiring very tight tolerances.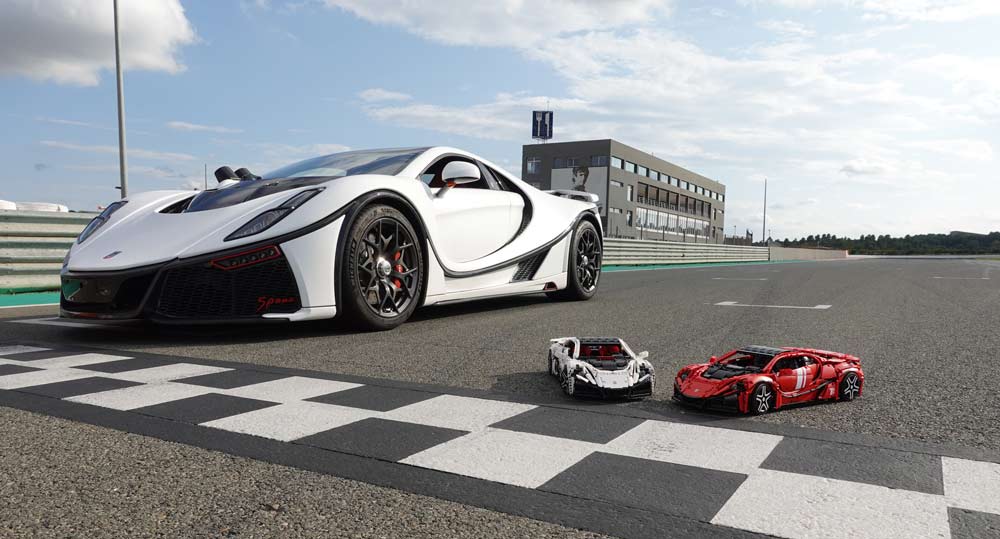 Without a record, we can't face Domingo
We now had two finished models in our hands.
One was intended to be a gift for Domingo Ochoa, the CEO of Spania GTA.  
The choice fell on the white one, since it was the white "GTA Spano" used in the "Ballers" series, and they have it in their private collection as a showcase car.
The other one, the red, needed to break the speed record for detailed 1:8 scale model made of LEGO® bricks.
When we first addressed Mr. Ochoa, and offered a cooperation, we promised to break the speed record. So, we couldn't "see" him, without the fastest 1: 8 LEGO® Technic model in the world.
The "baptism of fire" was on the track in Velenje. And we succeeded. That is why Jernej's answer to Tihomir's question from the beginning of the blog post was crucial. ?
Mixing work and pleasure
Everything after that was "a mixture of work and pleasure".
Since the cooperation with the company "Spania GTA" included a visit to their headquarters in Valencia, we organized a small "road trip", from Slovenia, the BuWizz headquarters, to Spain.
The "younger brothers" of the hypercar from Valencia visited Nice, Monte Carlo and Barcelona, ​​where they attracted a lot of attention from tourists and locals, so we were "forced" to answer numerous questions and demonstrate the possibilities of our models.
"The icing on the cake" was coming to Valencia, and Mr. Ochoa's delight when he saw our representation of his hypercar.
– Incredible, incredible, incredible … – Mr. Ochoa kept repeating, after Roni, CEO of BuWizz, handed him the white version of GTA Spano,
– rare wings, doors, lights, everything is pretty much the same like original. You made spectacular replica of Spano, with the technology you have included. It is fantastic. You filled us with emotion, we are very happy. I will not let anyone touch it, but I will show it to everyone. It's really amazing. It will have a special place in our company, but I will wear it to all events in which we will participate and proudly show it to everyone. – was the words that meant that all the hard work has paid off and that we created something special.
Another great experience was the race the two models on the famous track in Valencia, where Formula 1 races were held.
GTA Spano, made of LEGO and powered by BuWizz, started better and was in the lead for a short time, so Domingo Ochoa, who was behind the wheel of the original model, had to "put the pedal to the metal" to win. ?
After the race, although it was almost 40 degrees Celsius (104° F) outside, we held a BuWizz – Spania GTA meeting, on the pole positions of the Formula 1 track , where members of the two teams talked and exchanged experiences about their models, which was spectacular in this surroundings.
After all, despite all the challenges, two little twin brothers from Slovenia met their big brother from Spain, so this adventure, or at least its first part, has its own happy ending.
They continue their journey together and waiting for new adventures.
Favourite MOCs powered by BuWizz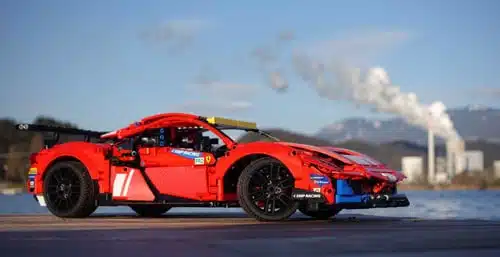 42125 Ferrari 488 GTE MOD
by BuWizz
For this model, the plan was not to aim for high speed but to modify it in a way to be able to power slide and drift.
This model also served as a test bench of the 3D printed BuWizz motor casings and BuWizz 3.0 production Pro hardware.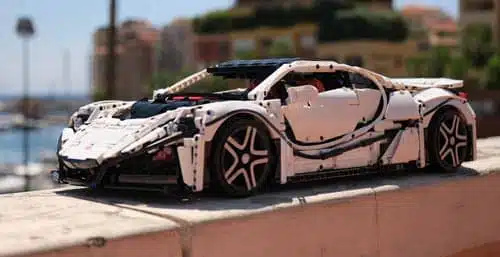 Spano GTA
by BuWizz
This model is the fastest 1:8 scale model, and of LEGO bricks, on the planet. It can reach a whopping 36,5 km/h.
GTA Spano MOC uses 10 BuWizz motors for propulsion and 5 BuWizz 3.0 Pro controllers.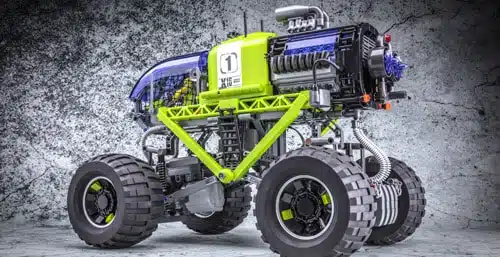 Futuristic Monster truck
by Alexander Rossier
This creation is out of this world. it looks like it is prepared for a MARS mission.
Alexander is a real-life Auto designer and fortunately for us, he loves to test his ideas with LEGO®.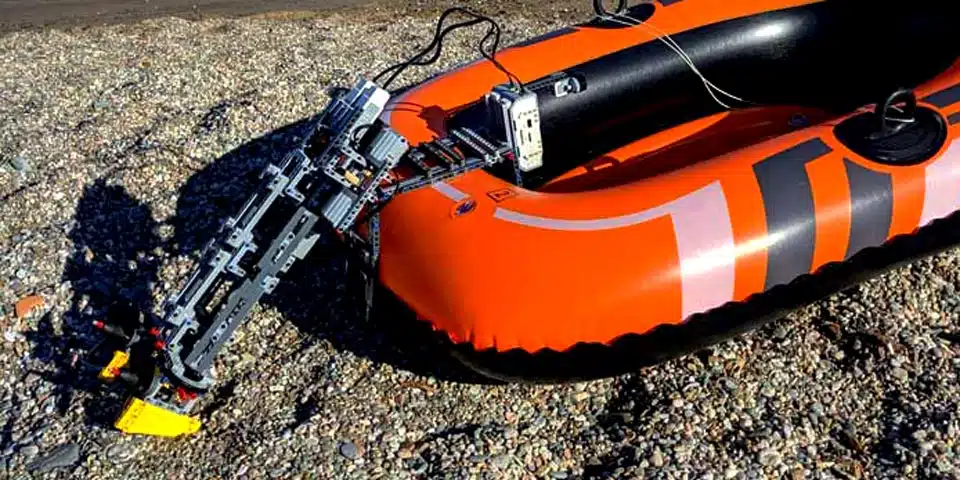 Boat motor from LEGO® bricks
by Andreas Stefadouros
If you are from Greece, you probably own a boat. LEGO® Technic builder Andreas had an amazing idea for an adventure.
He inflated his boat, through away his paddles, and made a Motor from bricks.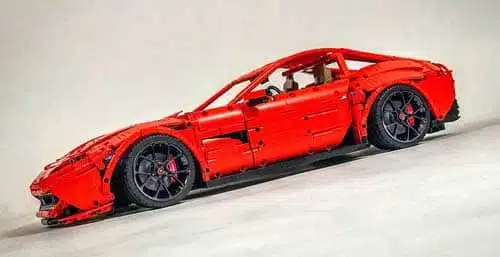 Ferrari F12
by Lachlan Cameron
Lachlan is one of the most recognised builders of Supercars. His collection of building instructions are phenomenal. But his pride and joy is this MOC: Ferrari F12. 
Check out what he said about the build...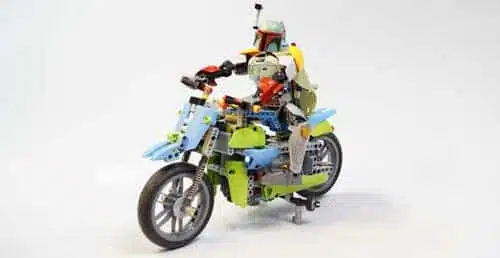 Boba Fett on motorcycle
by Brian Gunning
BuWizz #stayathome competition had some cool models, but one was very interesting. For all those who love Star Wars, the name is familiar. His bike isn't. This is a story about Boba Fett.